HOW CAN YOU AVOID WHAT YOU CAN'T SEE?
…with SNS SiTRACK!
A dynamic, real-time collision detection system that enhances the safety of stockpile operations. Avoid costly damage to infrastructure, reduce downtime and effectively manage stockpiled material. Employing smart & dynamic geo-reference boundaries surrounding both mobile plant, fixed infrastructure or hazardous areas, collisions are avoided.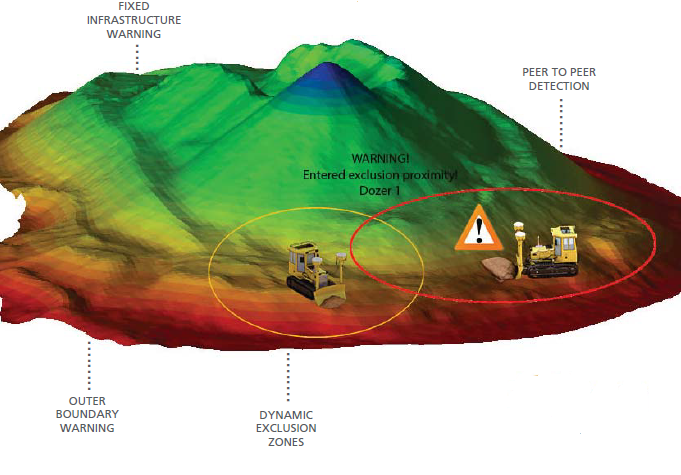 SNS SiTRACK is an advanced collision detection system that can be used on any vehicle such as dozers, conveyers, stackers and reclaimers – anything that is used for stockpile management.
A streamlined workflow allowing integration with over 40 file types, including ESRI Shape files and Digital Terrain Models draped with Raster images, which can be added to simulate current terrain conditions.
Integrated software come pre-loaded on a Trimble 12.1″ rugged android tablet that provides 4 levels of collision detection. Combined with two advanced 220 channel Trimble GNSS receivers supporting multiple constellations including Beidou and QZSS for performance positioning around infrastructure. In addition the GNSS receivers also leverage Trimble Proprietary xFill RTK augmentation.
MANNED, AUTONOMOUS, REMOTE CONTROL
Applications of SNS SiTRACK include manned, semi-autonomous, autonomous or remote control machines.
THE SOLUTION
SNS SiTRACK detects collisions between dozers and:
Other Dozer(s)
Stackers
Conveyors
Pylons and other infrastructure; and
Coal Valves
It also warns of encroachment to hazardous areas like:
Hoppers
Chutes
Draw Points
Voids
Vaults

SNS SiTRACK is fully compatible with any wireless system onsite, or SITECH Solutions can design and install a Rajant Wireless mesh system for the fastest data transfer rate available in the market. SNS SiTRACK can also operate in Cab without the need for a Wi-Fi system provided it can achieve high precision through a local GNSS correction signal.
Proximity and breach zones provide visual and audible alerts and warnings for an operator, or mechanical warnings and shut-offs for remote controlled or autonomous vehicles. SNS SiTRACK provides the highest level of safety to prevent harm to operators and damage to key assets. The system is designed around the concept that each and every asset can monitor its own proximity detection and warnings simultaneously with every other asset in the system. In practice this means that the operator can provide each asset with its own Geofence conditions and the system will monitor any intrusions into not only that assets boundaries but also and adjacent boundaries in near real time.