Latest News
SITECH Solutions At Western Sydney Airport, CPB LL JV Early Earthworks Site
SITECH Solutions at Western Sydney Airport, CPB LL JV Early Earthworks site, using GPS GCS900 machine control and VisionLink to track material movements, for compactor pass mapping and as-built surface mapping.
Check out these videos of the machines working whilst we utilise this technology to optimise project productivity – by monitoring load counts, cycle times and the movement of materials against projects or asset targets.
The Early Earthworks package involves moving more than 1.8 million cubic metres of earth as well as road and drainage works, including realigning Badgerys Creek Road.
The first stage of earthworks is scheduled for completion in late-2019.
Trimble's 3D GCS900 at the Moorebank Logistics Park
Here is Fulton Hogan's paver in operation, laying asphalt in one of the final parts of Construction – Stage 1 at the import-export (IMEX) terminal at the Moorebank Logistics Park.
Recently kitted out with Trimble's 3D GCS900 SITECH Solutions' Nick Pryke (Sales) was onsite running a training session on the machine when he captured these shots.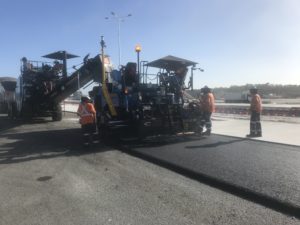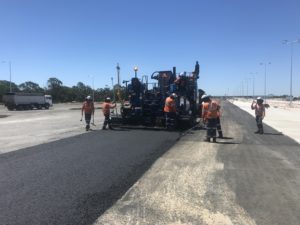 Trimble's 3D GCS900 helps you to achieve finished grade with fewer passes, place material faster with millimetre accuracy. With GCS900 on your machine you'll keep costs to a minimum and realize better profits.
-ABOUT MOOREBANK LOGISTICS PARK-
Moorebank Logistics Park is a nationally significant infrastructure development that will transform the way containerised freight moves through Port Botany and deliver a faster, simpler and more cost-effective service for business and consumers.
Moorebank Logistics Park is being developed on a precinct comprising of land owned by the Commonwealth of Australia and adjacent land owned by Qube Holdings.
The development will comprise:
-an import-export (IMEX) terminal with a capacity to handle up to 1.05 million TEU (twenty foot equivalent units) a year of international containerised freight;
-an interstate terminal with a capacity to handle up to 500,000 TEU of interstate and regional freight per year;
-up to 850,000 sqm of high specification warehousing where containers can be unpacked before delivery of their contents to its final destinations;
-auxiliary services including retail and service offerings;
-a rail connection to the Southern Sydney Freight Line (SSFL), which will provide direct access to the facility; and
substantial biodiversity offset areas protected from development, including vegetation on the east bank of the Georges River.
Contact us to find out more.
Trimble Dimensions 2018 Offsite – Automous Dozers
Trimble Dimensions 2018 Offsite was an awesome display of incredible technology solutions plus the opportunity to get hands on experience and watch demonstrations featuring over 50 machines from various manufacturers.
Catch a glimpse of the future of Trimble autonomous technology in this video of the autonomous dozer – just one of a massive line-up of off-site demos.
Hello from the Inside…Of Trimble Bootcamp 2018
Four of our SITECH Solutions technicians travelled Las Vegas this month to attend Trimble Boot Camp 2018.

A 3-day training event in Las Vegas running from Wednesday, October 31, 2018 – Friday, November 2, 2018, Trimble Boot Camp 2018 took place immediately prior to Trimble Dimensions 2018.
SITECH Solutions sent Matt Leonard, Support Technician, Coffs Harbour and Kevin Lawler, Support Technician, ACT along with Jeff Bowd, Support Technician, Sydney and Ben Nicholson, Support Technician, ACT to keep abreast of the latest Trimble technology and also in recognition of their dedication and hard work.

Pictured below are Matt Leonard (L), Support Technician, Coffs Harbour and Kevin Lawler (R) Support Technician, ACT in amongst it and loving it.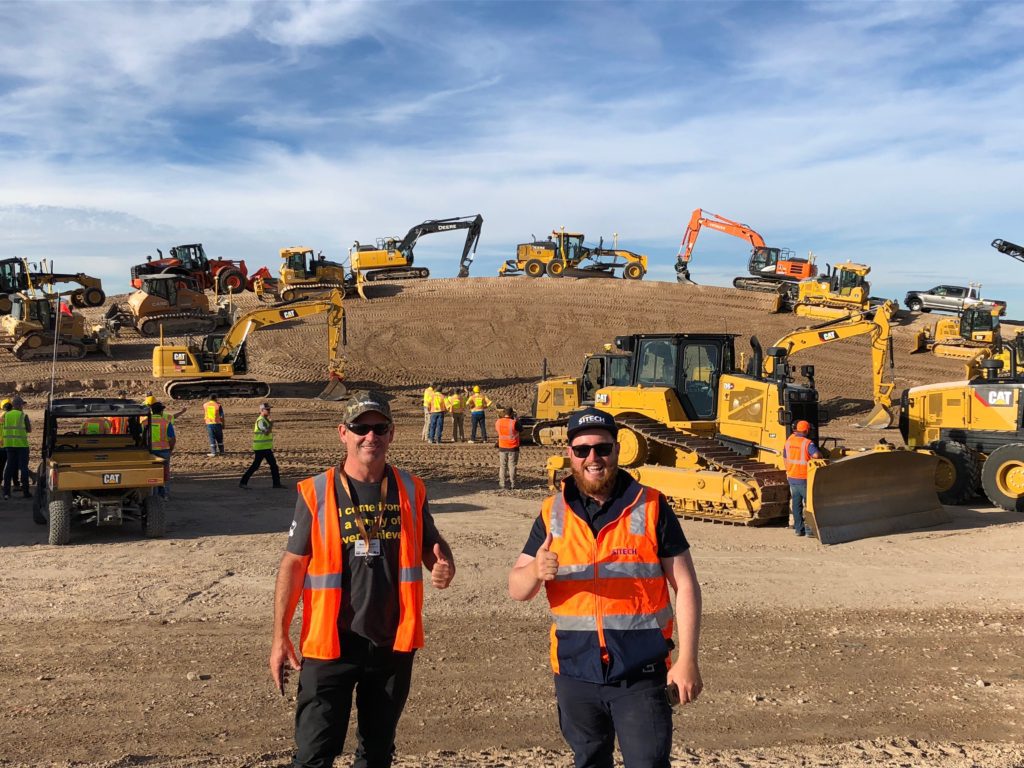 The photos below taken by SITECH's Solutions Support Technician Jeff Bowd, as he stands in amongst the 300 plus attendees, show the sheer scale of the event and the technology.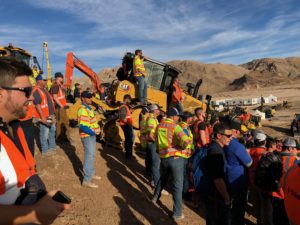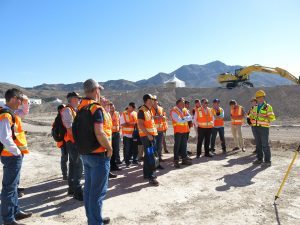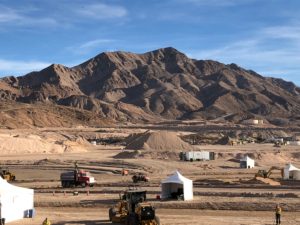 SITECH Solutions Traineeship Programme
SITECH Solutions is taking on trainees as part of one of the company's community initiatives centring around youth development and employment.
Cameron Stewart, Service Manager (L) is pictured here with SITECH Solutions' new Trainee, Peter Huy (R).
Peter is the first hire as part of the new SITECH Solutions Traineeship Programme. The traineeship is for 1 year and as part of this Peter will also complete a Certificate II in Automotive and Electrical Engineering through TAFE NSW.
We welcome Peter to the team and look forward to watching him progress in his career.
Second Trimble HYDROpro Installation for Tyson Excavations
SITECH Solutions' Grant Hibburd (Construction Sales) and Nick Pryce (Sales Mining, Landfill & Aggregates) were recently onsite for the install of a custom Trimble HYDROpro system on Tyson Excavations' Trencor trencher as part of the $43.7 million Wah Wah Stock and Domestic Pipeline Project.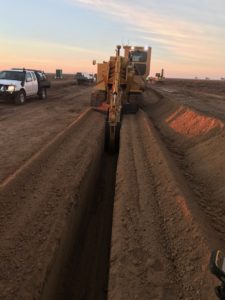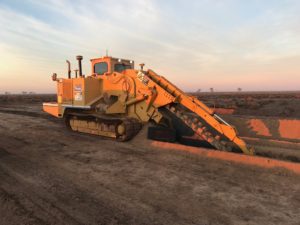 This is Tyson's second trencher to be fitted with GPS for the project.
Trimble HYDROpro gives depth, location, alignment and provides data recording for work as executed reports and built plans.
Scroll down to read our Gunbar Water Pipeline article below for more details about the project.
Landmark Construction Increases Efficiency with Trimble Earthworks Excavator 3D System
Trimble Earthworks allows Landmark Construction's excavators to semi autonomously reach grade quickly and accurately.
South Carolina-based Landmark Construction Company Inc. has grown from 45 to 400 people in 8 years .
Landmark's Survey Superintendent Mike Marshall credits this growth to the company's continued investment in construction technology such as Trimble Earthworks.
Read the full case study here.
Drought Relief – Over $16K Raised for NSW Farmers
A big THANK YOU to all of our customers who purchased from us in August.
Together we were able to donate over $16K to help support Australia's rural communities and Aussie farmers.
The percentage of our total turnover in August 2018 that we donated will help to buy hay for farmers and provide assistance in North West NSW where they are crippled by drought.
Watch the video below which explains a bit more about Rural Aid's Buy a Bale programme and its drought relief efforts.
Please call us on 02 6788 2155 if you have any queries about the August Drought Appeal or click through to the Buy a Bale website here.
Fiore Wins Perth SuperPrint in the SITECH Supercar
We're still celebrating first place at the Dunlop Super2 Series Perth Supersprint earlier this month.
Congratulations to Dean Fiore on his big win in the SITECH Supercar on home soil.
Dean couldn't have been happier. "What a day!! Can't thank everyone enough! Awesome to win at home," he said.
So good to see Dean and his great looking car on top of the podium.
Can't wait for the Watpac Townsville 400, 6-8 July 2018.
Trim's New Hitachi Fitted with Trimble GCS900 Grade Control
SITECH Solutions just finished commissioning Adam Wilson from Trim Plant's new Hitachi 2×210, fitting it with a Trimble GCS900 grade control system.
Here are some photos of the machine on site at the Bringelly Road Project for your viewing pleasure.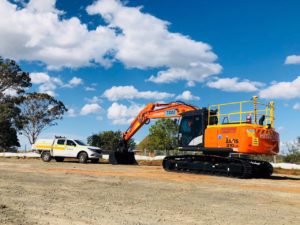 Trimble's GCS9900 system lets you quickly perform complex tasks and simplify finishing slopes with accurate 3D positioning and allows you to work in any environment with a flexible system that can use either GNSS or robotic total station. You can use the GNSS receiver(s) and solid-state angle sensors to measure the precise 3D position of the teeth of the bucket and add a robotic total station-based system for extreme accuracy. Use the system on excavators with tilt buckets for shaping V-ditches and operations where the excavator is digging a slope that is not perpendicular to the boom.
Kobelco announces a Trimble Ready Option for the 20T, 25T, 30T AND 35T Class Excavator Models.
Kobelco and Trimble have announced the introduction of a Trimble Ready® option for select Tier 4 Final Kobelco excavator models in Australia and New Zealand. Select excavators that ship from the Kobelco factory are now ready for the installation of the Trimble® Earthworks Grade Control Platform for excavators, which can significantly reduce the cost and complexity of the installation for the contractor.
Read more on the Kobelco Website
Dean Fiore and Michael Caruso in the Nissan Altima #23 at the RABBLE.club Sandown 500 over the weekend.
Read more at https://www.supercars.com/…/days-of-thunder-moment-for-sat…/
#deanfiore #michaelcaruso #sitechsolutions #trimble #sandown500
New Products!
We are proud to announce our new partnership with Walz Scale and MiX Telematics as the new distributor of their product range in Australia.
Walz Scale is your single source for industrial truck scales, onsite services, calibration, and various other weighing systems for freight, shipping, retail, and more. Spanning from heavy duty axle scales and wheel weighers to pallet jack scales and floor scales, Walz Scale delivers a full spectrum of industry-leading weighing solutions for a wide range of needs and application.Visit the Walz website
MiX Telematics is a global provider of information and related services for the efficient and effective management of mobile assets, including driver safety, vehicle tracking and fleet management.Visit the MiX Telematics website
August Drought Relief – We're buying Hay for NSW Farmers
We will donate 1% of total turnover in August 2018 to buy hay for farmers in North West NSW where they are crippled by drought!
When you purchase a product from us this month, you are helping us help our farmers!
Please call us if you have any queries about this appeal on 02 6788 2155.

Staff Movements
Remmi Madhu – we are pleased to welcome Remmi Madhu to SITECH Solutions, to the role of Service and Hire Fleet Technician, servicing and co-ordinating the process of hiring Trimble products to customers and internal support.
Remmi completed a Bachelor's Degree in Electronics and Communication Engineering in 2006 and has more than eight years of experience in various sectors in the electronics industry including designing, servicing, quality, certifying electronic products according to Australian and International Standards. Remmi worked as an Electronics Engineer with Novastar Communications for five years in India before moving to Australia with her husband and two children.
Remmi started her career in Australia working with Fonebiz then EMC Technologies as a Safety Engineer and Quality Administrator for more than two years before joining SITECH Solutions.
Rhys Geerligs – has been working as a Support & Training Coordinator for the past two and a half years.
We are pleased to announce that Rhys has taken up the Position of Sales Representative – Survey & Software. Rhys has extensive Trimble Product knowledge and will be more than happy to assist you with Rovers, Base Stations, UTS Kits, Trimble Stratus and Business Center – HCE, servicing New South Wales and ACT.
You can contact Rhys directly on 0488 050 907 or email the Sales Team at sales@sitechsolutions.com.au
Jeff Bowd – has been working as a Service and Quality Assurance Technician/Hire Fleet Coordinator for the last 12 months.
We are pleased to announce that Jeff has taken up the Position of Technical Support. Jeff's new role involves assisting customer with product fault-finding and problem solving over the phone and to decide whether an on-site technician is required. Jeff will also be assisting customers with Data Prep – converting surveyor designs into files that can utilised with SCS900 in Trimble Controllers and GCS900 in Machines.
You can speak to Jeff by calling 02 6788 2155 or email the Support Team at support@sitechsolutions.com.au
Gunbar Water Pipeline
Sitech Solutions' Grant Hibburd and Nick Pryce recently spent a few days with Tyson Excavations, installing a custom Trimble HYDROpro system on their Cleveland Bucketwheel Trencher.
The custom Trimble HYDROpro system gives depth, location and alignment, also providing data recording for work as executed reports and built plans.
Based in Griffith, Tyson Excavations are contractors for the $43.7 million Wah Wah Stock and Domestic Pipeline Project (WWSD) which reached a milestone with construction of the 270km Gunbar Water Pipeline commencing in December last year.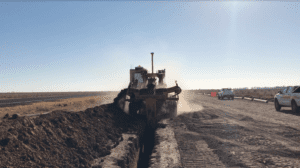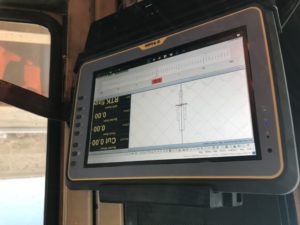 The WWSD will supply pressurised piped water to 62 properties in the Wah Wah district in NSW, which covers 310,000 hectares from Carrathool to Hay in the south, and from Gunbar to Booligal in the north.
"The current supply system is inefficient with water conveyed from Barren Box Storage along the Wah Wah main channel and into 1,590km of earth channels, to fill more than 600 in-ground tanks on the properties," Murrumbidgee Irrigation (MI) Chairman, Frank Sergi said.
"With the new pipeline Wah Wah customers will benefit through improved levels of service, with year-round access to the river and bores, pressurised water supply and measured water use, which can be remotely monitored."
"This is a once-in-a lifetime opportunity to receive filtered Murrumbidgee river water," said Chairman of the Gunbar Water Steering Committee and local farmer Don Low.
"In a couple of years we will look back and believe the pipeline is the best thing to happen to this area."
The Wah Wah Stock and Domestic Pipeline Project is due to be completed by April 2018.
Trimble 3D System on the Bringelly Road Upgrade
The $3.6 billion Bringelly Road Upgrade now has a new addition to the line-up of machines working on this significant NSW Government infrastructure project.
DJW Civil took delivery of a Cat 323FL – stacked with features including the Trimble 3D machine control system to maximise productivity and safety.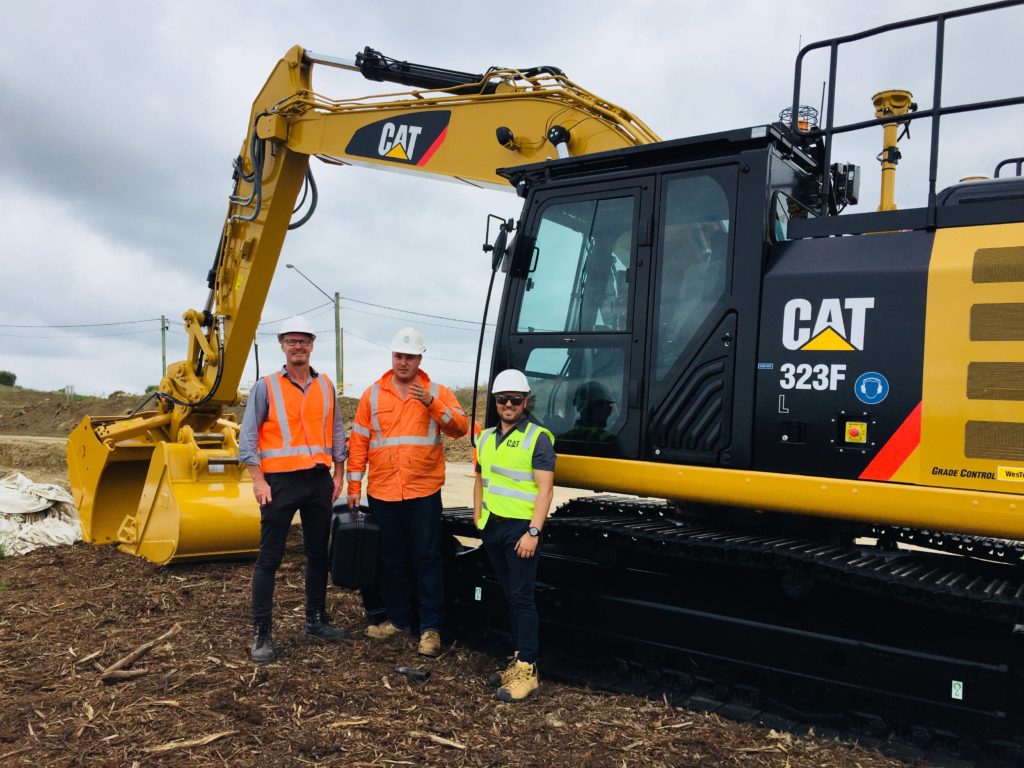 Pictured L to R: Craig Wenck (SITECH Solutions), Dylan Wheeler (DJW Civil) and Roberto Manna (WesTrac)
By putting design, surfaces, grades and alignments inside the cab, our 3D machine control systems give operators unprecedented control over grading, excavating, compaction and paving applications, significantly reducing material overages and dramatically improving productivity and profitability.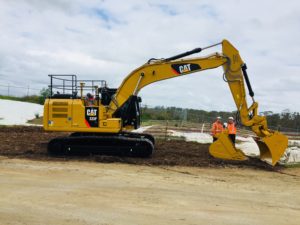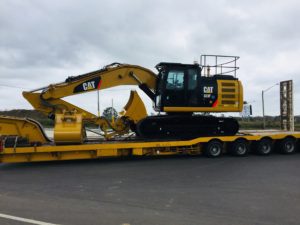 Harnessing the Power of Information with Trimble
The global construction industry is realising the inherent benefits of data optimisation.
Utilising data is not only helping to inform decisions about infrastructure design, construction and management, but it is also helping improve construction machinery and in turn, productivity and job efficiency.
Trimble is well versed on the power of data, particularly around increasing construction and earthmoving machinery efficiency and site productivity through improving interoperability of technologies and data.
Dan Barry, Australasia Regional Manager at Trimble, chats to Roads & Infrastructure Australia in this article about the latest industry trend – turning data into a powerful tool to increase machine and on-site productivity via Trimble's Connect software and Earthworks grade control.
Read the full article HERE.
Contact us – your local Trimble dealer – to find out more on 02 6788 2155

See SITECH at the Adelaide Clipsal 500 This Weekend!
SITECH Solutions is proud to be going racing this weekend as the Dunlop Super2 Series kicks off at the Adelaide Clipsal 500 with Dean Fiore on board the number 23 Nissan Nismo Altima for MW Motorsport.
The car's new livery is set to be unveiled for the first time this weekend and call us biased but we think it looks great.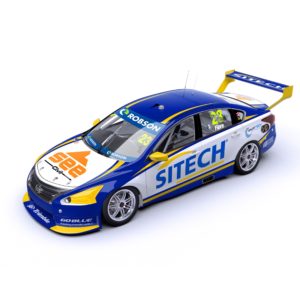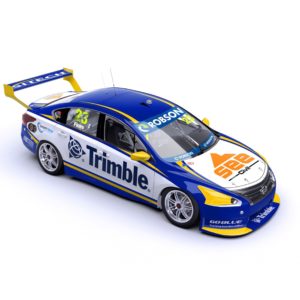 It will be the first time that Supercars main gamer turned PIRTEK Enduro Cup regular Dean Fiore will contest the Dunlop Super2 Series.Fiore has been a frequent Enduro contender with Michael Caruso and Nissan Motorsport, taking his maiden Supercars podium at the Gold Coast in 2014.
In addition to outings in Carrera Cup, Australian GT and the Bathurst 12 Hour in recent years, Fiore has three Super2 events to his name.
The 2018 Adelaide 500 is the 20th anniversary of the event and dubbed a ground-breaking motorsport spectacular packed with action, entertainment and unforgettable moments that will have fans raving for the next 20 years.
All Dunlop Super2 Series races will enjoy live coverage on Foxtel with five events providing additional FTA (free to air) coverage.
Wishing our team the best of luck!
Trimble Implements Strategy – Inside Construction Feature Article
Inside Construction talks to Dan Barry, Trimble's Regional Sales Manager Australasia, Civil Engineering & Construction, about the deployment phase of the latest technologies, Business Center Design Solutions, Trimble Earthworks, and the related productivity gains for customers.
Read the full article HERE.
For further info contact us, your local Trimble dealer.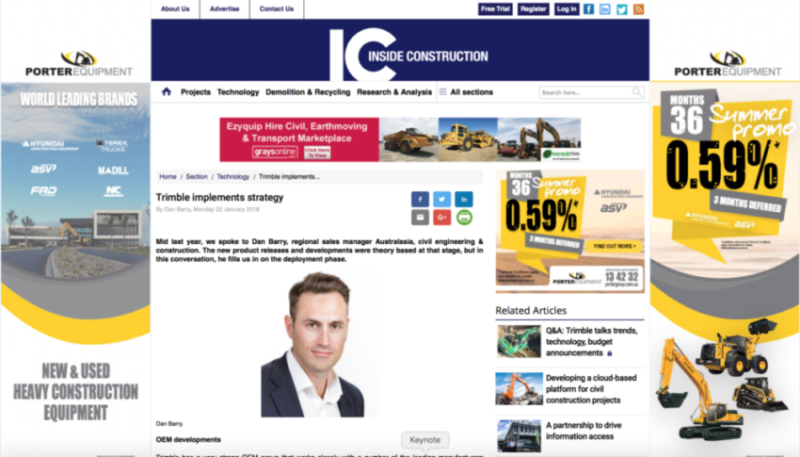 Schofields Road Upgrade – SITECH's Tech Savvy Solutions
Check out the latest edition of Australian National Construction Review for a feature on one of our recent projects – Schofields Road Upgrade.
The $140M Schofields Road Upgrade Stage 3 included a 2.5km upgrade to extend the road to four lanes, construction of new twin bridges and new traffic lights.
SITECH Solutions supply Trimble construction solutions and software which not only provide efficiencies but increase safety on construction sites.
SITECH has also been involved in major road construction projects such as the Bringelly Road Upgrade and has provided technology solutions for Windfarm development in Southern New South Wales and the Snowy Hydro Project.
Click through to the full article HERE – from page 164 to 169.
Trimble's New Earthworks Production Study
SITECH Solutions is so excited about Trimble's new Earthworks Excavator System with automatics.
Watch this video as Trimble teams up with partner SEE Civil in a real world application to directly compare the automatics and guidance only systems.
The results are very impressive. Compared to guidance only, Trimble Earthworks Automatics achieved TWICE THE SPEED and TWICE THE ACCURACY.
Think what 50% more production time could do for your business!
Anyone not using it needs to get with the times or they'll be left behind in 5 years.
Meet Cameron Stewart – SITECH's New Services Manager
SITECH Solutions are pleased to announce the appointment of Cameron Stewart to the role of Services Manager.
A qualified diesel mechanic, Cameron grew up on the Gold Coast and has over twenty years experience working in the mining and construction industries under his belt.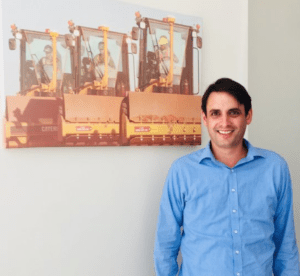 Cameron has worked in both Queensland and NSW at Caterpillar dealers including Hastings and Westrac in product support roles.
Before moving to Sydney last year, Cameron enjoyed a ten and a half year stint in Indonesia working for Caterpillar dealer Trakindo in Service Management roles and ultimately becoming responsible for the Component Management and Rebuild Centre.
As SITECH Solutions' Service Manager, Cameron is responsible for the team of Installation and Service Technicians.
He will oversee the daily operations of the service department as well as quality control, customer training and support.
He loves the challenge of continuously improving and streamlining processes and productivity, with the ultimate goal of exceptional customer service.
Cameron started in the role earlier this month and looks forward to meeting you.
Christmas and New Year Trading Hours
Our Sydney and Canberra offices will be closed for the holidays from Friday, 22nd December 2017 and will re-open at 8am on Monday, 8th January 2018. We will be operating on a limited basis from the 2nd-5th of January 2018.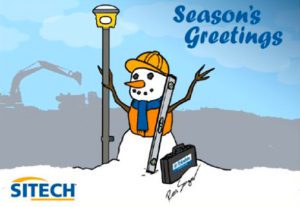 SITECH Solutions would like to wish you a Merry Christmas and Happy New Year and we look forward to working with you in 2018.
24 Trimble Spectra Pipe Lasers
Another great order from our Sydney Branch for 24 Trimble – Spectra Pipe Lasers to our valued client. With industry, leading results and 5 years' factory warranty, Spectra Lasers are lasers you can rely on.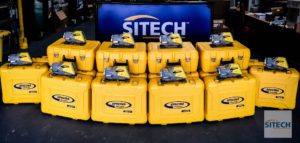 Call SITECH Solutions today for more information on Trimble Spectra Lasers on 02 9860 0000 or visit www.sitechsolutions.com.au
#trimble #spectra #pipelasers #sitechsolutions #lasers
We're Relocating our Office
It's with great anticipation and pleasure to let you know we are moving our business location to accommodate our growing customer base.

Our new location is 2 Voyager Circuit, Glendenning NSW 2761 and you can now contact us on 02 6788 2155, fax 02 6788 2156 or email us at sales@sitechsolutions.com.au. Our new office is close to the M7 Motorway and Western Sydney Parklands. You are welcome to visit us on 1 December 2017 when we open our new office.
Since we first opened our doors at our Rydalmere office, your loyal business and support is one of the main reasons why we've grown so much over the years. At the former location, the limited parking and tight working spaces were no longer acceptable. For the past six months, we've been searching for the ideal location and are happy to tell everyone that we've finally found it!
Our Staff News
Craig Wenck – Sales Representative Sydney Metro
We are very pleased to introduce to you our new Sales Representative for the Sydney Metro area, Craig Wenck. Craig joined our team in October and has over 30 years' experience across the Construction, Transport, Marine, Mining, Oil and Gas Industries.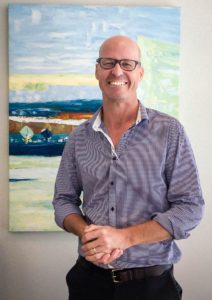 Craig is multi-skilled and has a comprehensive understanding of the Construction industry. He has worked in maintenance, engineering, product support and sales throughout Northern Territory and Queensland. Craig spent the last 28 years with Hastings Deering – the Caterpillar Dealer in the NT and QLD.
Craig is married with three teenage children. He is a keen fisherman and plays touch football in his spare time.
In his new position, Craig will be pleased to oversee all your construction technology solution requirements. A real people person, he looks forward to getting to know all of our valued and loyal customers.
We are confident that Craig will be an asset to both SITECH Solutions and our customers. Please feel free to contact Craig on 0429 671 716 or Craig.Wenck@sitechsolutions.com.au for any questions or requirements about your Trimble Technology Solutions.
Download the

#

TrimbleCECCalendar

for the month of November
Service Awards
We take this opportunity to congratulate Dave, Paula, Chris and Mark on their 5 years of service in their roles and commitment to SITECH Solutions. Your dedication and loyalty is greatly appreciated. Congratulation on your 5 years' service. We are proud to have you in our company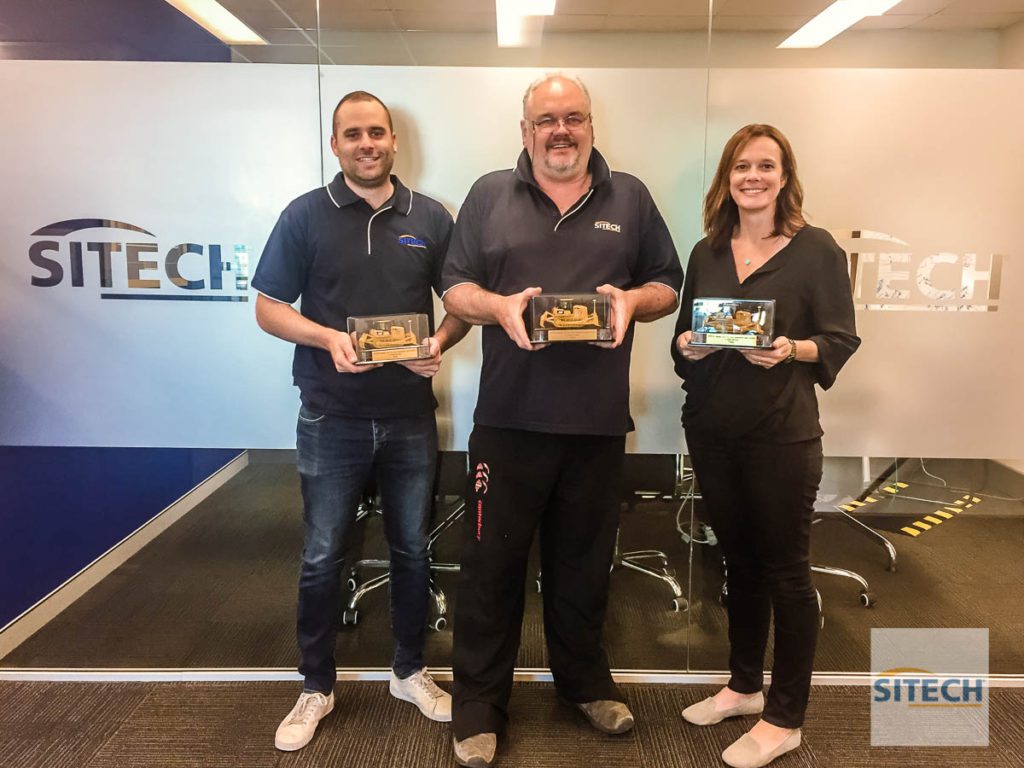 New Staff Announcements
Mark Brooke has been working as a Support Technician in our Coffs Harbour Office for the last 5 years. We are pleased to announce that Mark has taken up the Position of Sales Representative and Co-coordinator in our Coffs Harbour Office.
Mark has extensive Trimble Product knowledge and will be more than happy to assist you with all aspects of Machine Control and Guidance, you can contact Mark directly on 0488 333 319 or email the Sales Team atsales@sitechsolutions.com.au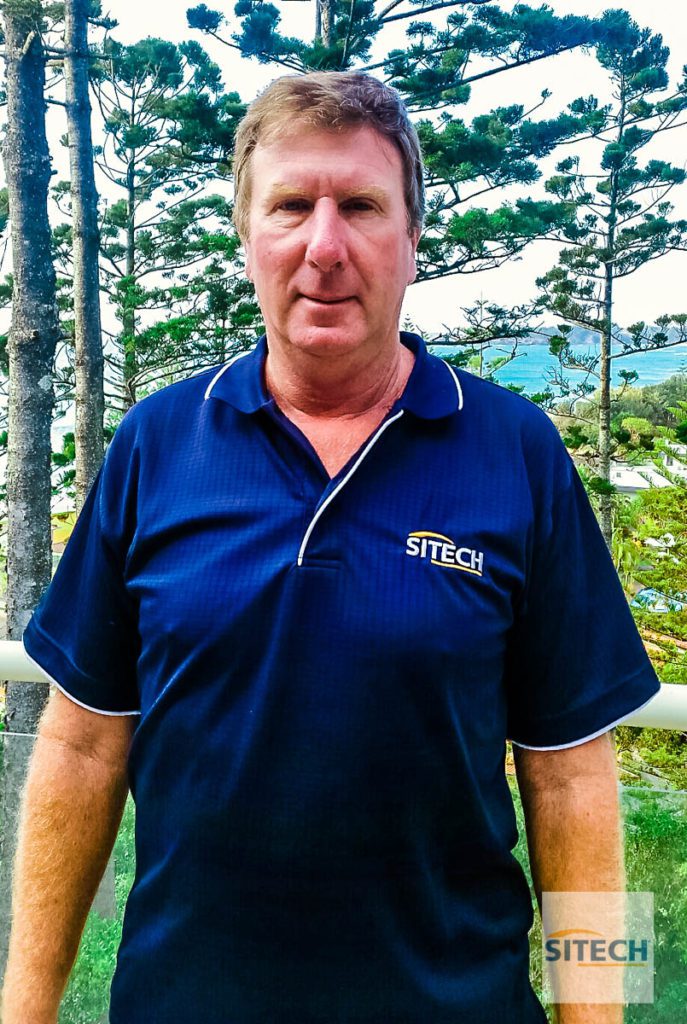 SITECH Solutions is proud to announce and welcome Rhys Millington as an Installer to our team. Rhys will be working in our Sydney office servicing the Greater Sydney Area.
Rhys was previously working with Trimble Machine Control and Guidance in Darwin and has moved back home to Sydney after three years. In his spare time, Rhys loves to be out on Lake Macquarie fishing or camping with friends and family.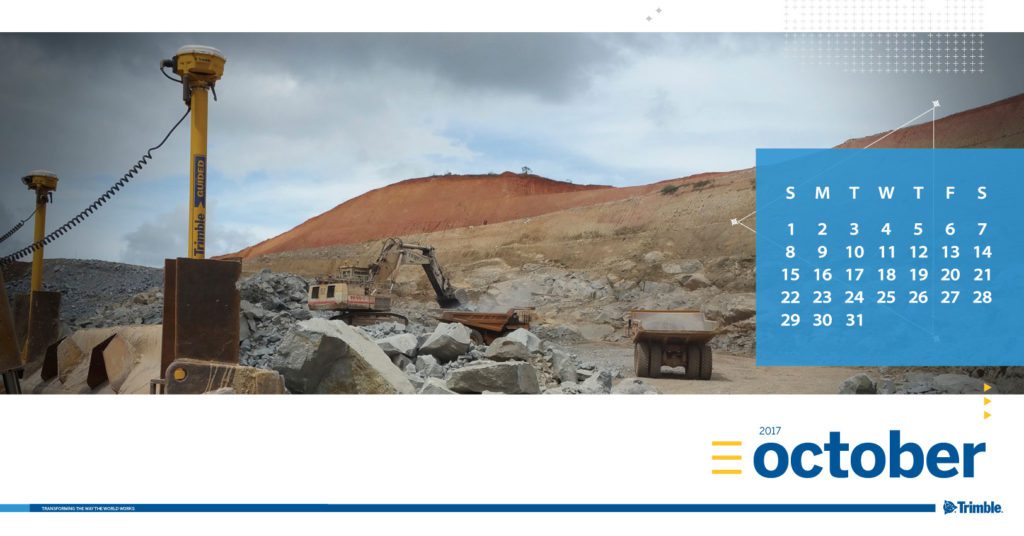 Australia's largest online construction marketplace and construction technology leader partner to improve access to equipment telematics information.
PlantMiner and SITECH dealerships throughout Australia announced they are partnering to help construction professionals across Australia better track their equipment location and monitor usage.
VisionLink, a Trimble and Caterpillar joint venture, is the leading fleet, asset and productivity management software for civil construction. VisionLink has been outfitted to the vast majority of Caterpillar built machines since 2010 to process and convey information to users and dealers, becoming an integral part of the Cat product line.
Under the new agreement, PlantMiner will leverage the information from VisionLink, to give their customers access to real-time equipment information that wirelessly reports from the field.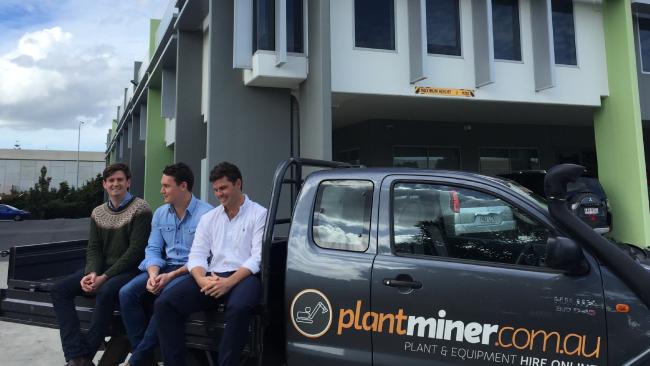 Read about our exciting partnership news with PlantMiner – and Trimble's VisionLink in The Australian – Read the Full Article
Grade control integrates 3D automatics
Our new Trimble Earthworks Machine Control Platform runs on a 10-inch touchscreen Android display and includes integrated 3D automatics capabilities for excavators.
Read more in the August issue of GPSWorld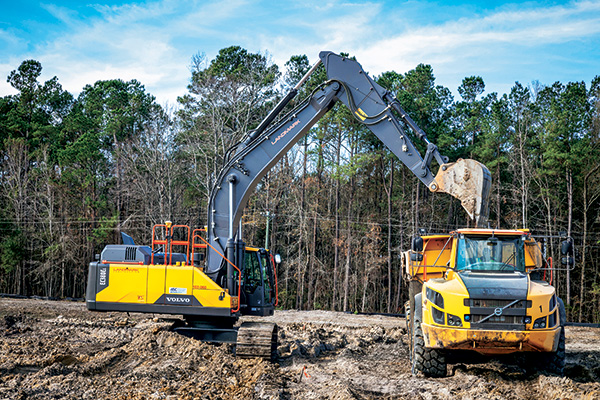 Earthmoving developments for construction machines
Excavators, wheeled loaders and ADTs have all seen improvements for this year
New developments in earthmoving machines continue to help improve working efficiency for contractors. The excavator market is the largest single segment of the construction machine sector, with competition being tough between the major players, and a steady stream of new models coming to market.
Read the Full Article in World Highways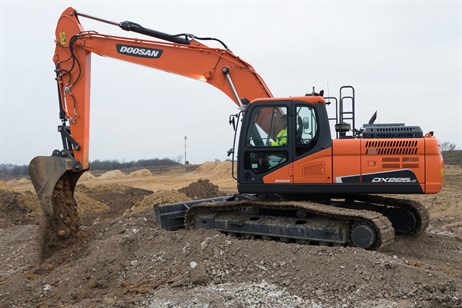 Estimating Earthwork Volumes
Estimating earthwork volumes is essential information when planning a project.
Alan Sharp from Trimble spoke with Grading & Excavation to provide expert tips on how to resolve accuracy and completeness issues when estimating earthwork volumes. Read the entire article here

Loader Scales Improve Site Management
Trimble's next generation loader scale features smarter weighing, improved data management and an intelligent interface.
Manufactured with the latest electronic components, Trimble's Loadrite L3180 SmartScale uses solid sensors for more accurate, precise and faster loading.
Features include the ability to adjust for rough terrain, operator technique and machine movement.
With built-in Wi-Fi and GPS capabilities, the L3180 also consolidates live, operational information to provide real time productivity and performance reports for quarry operators.
To learn more about Trimble Loadrite Products – See our Weighing and Reporting Solutions or visit https://loadritescales.com/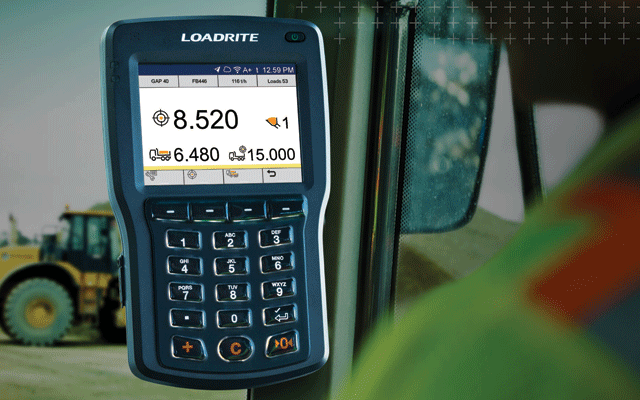 Komatsu and Trimble Partner on new API
Software will allow mixed fleet compatibility when using 3D data
Trimble and Komatsu have announced they are working together to develop an Application Program Interface (API) to enable compatibility between their software platforms to improve users ability to exchange 3D construction site data. The companies said the effort will make managing mixed earthworks fleets easier and allowing for a more holistic view of site operations.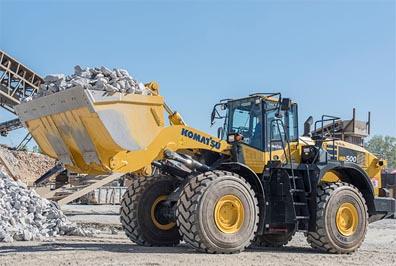 Do you have the latest Software/Firmware Versions?
Having the latest software/firmware version means you have the latest features and advances and your products can be functioning at the optimum level. That's why we're bringing you Trimble's software/firmware latest updates.

Trimble Earthworks Grade Control Platform for Excavators Version 1.2.0
The Trimble Civil Engineering and Construction division is pleased to announce the release of Trimble® Earthworks Grade Control Platform for Excavators version 1.2.0. Most notably, this release of Trimble Earthworks features support for aftermarket excavator automatics on more machine models.
Cat® GRADE Aftermarket Grade Control Platform for Excavators Version 1.2.0
Caterpillar announces Cat® GRADE for Excavators version 1.2.0.
Now you can find a list of the current Trimble Civil Engineering and Construction Software and Firmware Versions on our website.
View the Latest Software/Firmware Versions
Call the SITECH Solutions support team on 02 9860 0000 or email support@sitechsolutions.com.au to obtain the latest versions and assistance with the latest upgrades.
Trimble® Installation Manager (TIM)
TIM is used to install and update supported Trimble® software to a field controller connected to an office computer or tablet, or an office computer or tablet running TIM.
Find out more about TIM and download your Free Version
Trimble Earthworks Grade Control System for Excavators
80% of construction jobs run into overtime…Introducing Undertime
The new Trimble® Earthworks for Excavators Grade Control Platform is designed to help you do more in less time. Reengineered from the ground up, our innovative, next generation grade control platform features intuitive, easy- to-learn software that runs on an Android operating system. And state-of-the-art software and hardware give operators of all skill levels the ability to work faster and more productively than ever before.
Find out more about Trimble Earthworks at http://construction.trimble.com/earthworks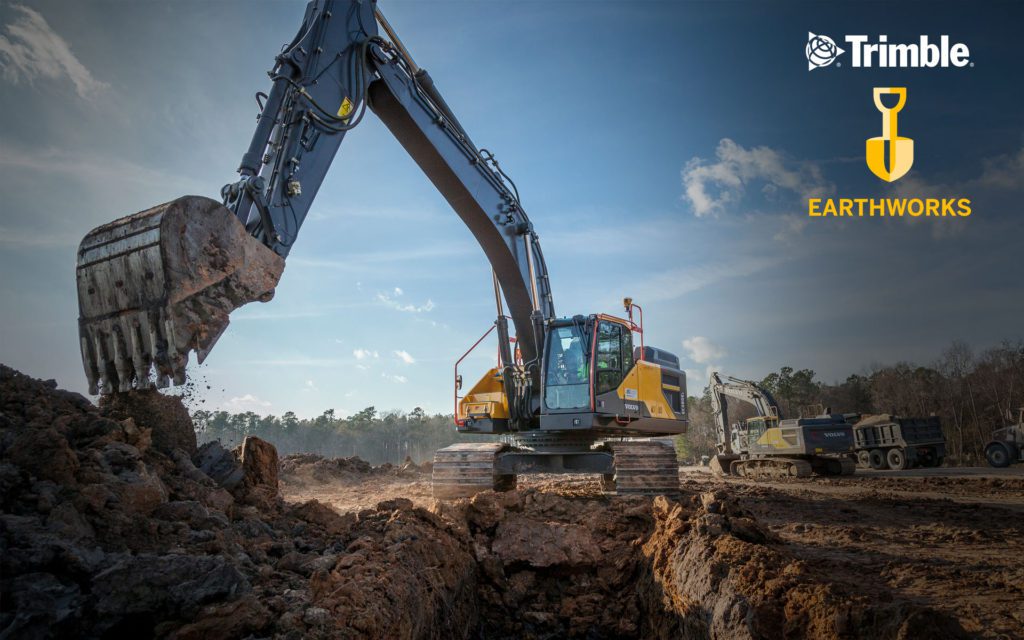 The evolution of machine control
A lot has changed in 20 years – operators are faster and more accurate than ever
Jeff Drake, business area manager for earth moving machine control systems at Trimble spoke with On-Site Magazine about how he has seen an expansion of machine control technology onto additional machine types in their recent article about the evolution of machine control. Read the article here – http://bit.ly/2sqKGCb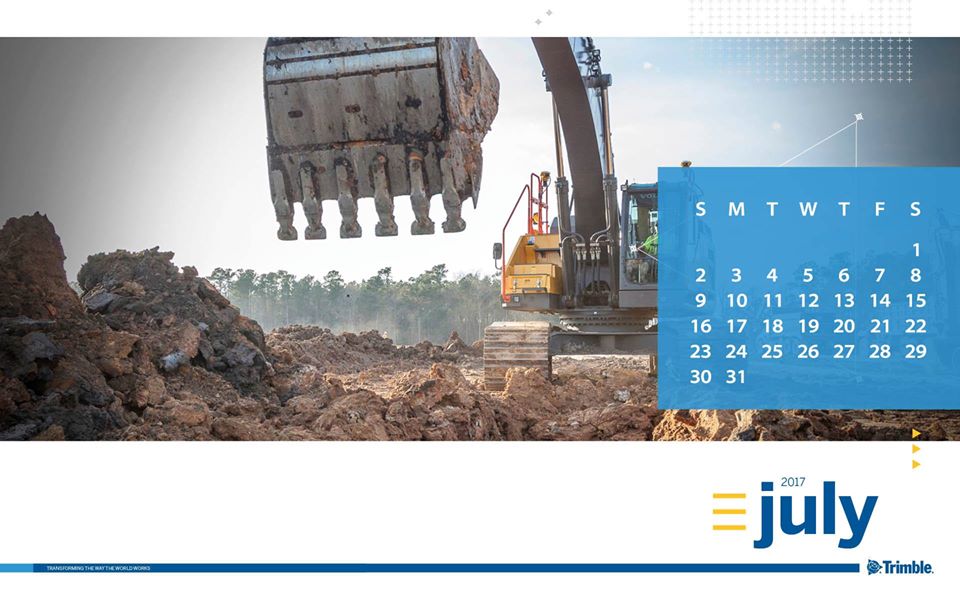 Transform 2017
Transform 2017 at the ICC in Sydney showcased the advancement in Trimble technology to key target audiences within the Building, Civil, Mining and Geospatial Industries.
The event provided a unique opportunity to speak with Trimble experts, for attendees to see how their peers are using the latest Trimble technology to get ahead, and network with industry personnel.
Here's what some of the attendees had to say about the day
I do not think you could make the event any better – venue was great, speakers and displays were excellent – good pace and durations.
Amazing – opened my mind. I enjoyed the day.
Excellent effort really impressed by this day – the economic outlook presentation was extremely helpful and insightful.
This was excellent, plenty of equipment and operators, good to hear from customers also.
If you were unable to attend, we hope you consider joining us in 2019. Be sure to visit this website in the coming months for updated announcements on locations and dates for Transform 2019 or you can join our mailing list.
Diesel, Dirt and Turf 2017 Recap
Thank you to everyone who came out to visit us at the Diesel Dirt & Turf Expo and made it a great success.
Day 2 at Diesel, Dirt and Turf 2017.

Day 2 at Diesel, Dirt and Turf 2017. Come and speak to the team about Trimble machine controlDiesel Dirt and Turf Expo#sitechsolutions #Trimble #construction #machinecontrol #DDTExpo2017

Posted by SITECH Solutions on Friday, April 21, 2017
We're live at Diesel Dirt and Turf Expo! Come and chat to our team at stand 1Diesel Dirt and Turf Expo#sitechsolutions #trimble #ddtexpo2017 #penrithpanthers #construction #heavymachinery

Posted by SITECH Solutions on Thursday, April 20, 2017
See more photos of DDTExpoo2017 on our Facebook page
Edward River – Deniliquin NSW
Machine Control for Excavators
If you're in the construction industry, chances are you've given at least a little thought to whether or not investing in machine control is right for you. From there, knowledge and adoption of the technology varies greatly across the industry. While early adopters and super-users are finding ways to grow their businesses and expand their service offerings using machine control and related technologies that connect construction jobsites, much of the industry is still inching slowly toward adoption.
Although machine control has a longer history on dozers and motor graders, one of the more recent uses for machine control is on excavators, where the system puts the job's design in the cab, at the operator's fingertips, and then guides the bucket or attachment to a precise location. Using machine control on excavators allows contractors to complete jobs more efficiently and with greater precision. But for many, questions still remain about the options, cost and learning curve of making the move to machine control.
Read the article – http://www.heavyequipmentguide.ca/article/25475/machine-control-for-excavators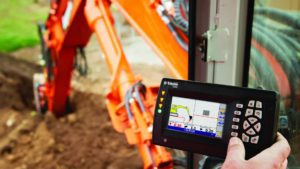 SITECH Solutions at DIESEL, DIRT AND TURF EXPO 2017
Not long to go now! Come see us at site 1 – free entry and a family friendly event with great entertainment from April 21 – April 23 2017 at Penrith Panthers.
Learn more about the Next Generation of Grade Control for Excavators and Dozers.
You can find more details about the event at http://www.dieseldirtandturf.com.au/ #SITECHSolutions #Trimble #TrimbleEarthworks #DDTExpo2017 #PenrithPanthers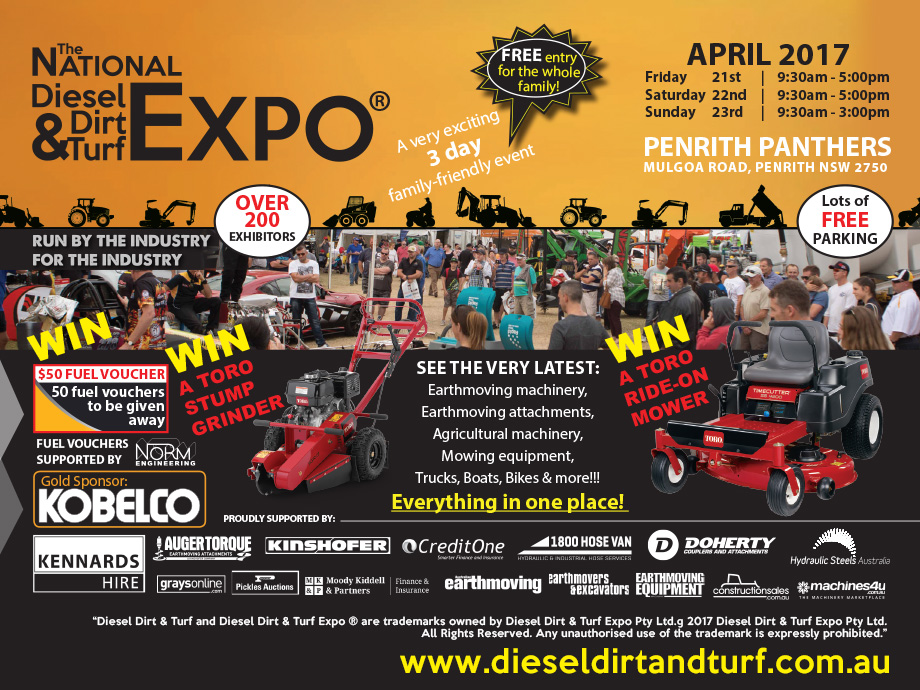 SITECH Solutions at CONEXPO-CON/AGG 2017
Trimble Earthworks
Introducing Trimble Earthworks, an entirely new grade control software application that runs on Android and helps your crew be more efficient and productive. Learn more at http://construction.trimble.com/earthworks
Trimble TD520
Introducing the new Trimble TD520 display for Trimble Earthworks. It combines the best in technology and design, taking usability to the next level. Learn more at http://construction.trimble.com/earthworks
Trimble Dual GNSS
Trimble, a leader in precision measurement technology, pioneered the Dual GNSS solution to meet the needs of the construction industry. Just one of ways Trimble is transforming the way the world works. Learn more at http://construction.trimble.com/earthworks
Trimble Earthworks: Automatic Excavator Control
With Trimble Earthworks, your excavator can now work semi-automatically to help operators create smooth flat or sloped surfaces with ease. Learn more at http://construction.trimble.com/earthworks
Trimble Introduces the Next Generation of Grade Control for Excavators and Dozers
Trimble Earthworks Grade Control Platform Transforms Machine Control with Integrated 3D Aftermarket Excavator Automatics
Trimble announced today Trimble® Earthworks for Excavators and Trimble Earthworks for Dozers. Trimble Earthworks is transforming machine control with the industry's first integrated 3D aftermarket excavator automatics capability. In addition, a new dozer configuration moves the receivers from the blade to the roof of the cab. Reengineered from the ground up, Trimble's innovative, next generation grade control platform features intuitive, easy-to-learn software that runs on an Android operating system. State-of-the-art software and hardware gives operators of all skill levels the ability to work faster and more productively than ever before.
"Trimble pioneered machine control," said Scott Crozier, director of marketing for Trimble Civil Engineering and Construction. "Now, Trimble Earthworks takes machine control to the next level, with a platform that reinvents machine control technology, making it easy to use and learn, and more accessible for many different types of contractors."
Live demonstrations of Trimble Earthworks for Excavators and Trimble Earthworks for Dozers will be showcased at ConExpo 2017, one of the world's largest international exhibitions for the construction industry. Trimble will be located in the Las Vegas Convention Center North Hall #N-12067.
Learn more at http://construction.trimble.com/earthworks
Changing the world from a garage shop: Charlie Trimble: Geospatial Hall of Fame
Charles R. Trimble was the principal founder of Trimble Navigation Limited in 1978 and served as President and Chief Executive Officer (CEO) from 1981 until 1998. The company originally focused on developing navigation product using the Long Range Aid to Navigation system. In 1982, Mr. Trimble began developing receivers using GPS signals.
Grading Systems Give Excavator Operators A Helping Hand
Excavator operators no longer have an excuse if they can't make the grade. Machine-control systems now offer them several solutions to the problems of digging below grade or carving an uneven slope. The electronic solutions either take over delicate phases of an excavation or give an operator valuable, real-time indicators about where to place and move the bucket. Yet, please note: Skilled hands-on operators still are needed.
"Maybe in a dozer system, or a grader" can operators sit back for screen time with their phones, acknowledges Scott Crozier, director of marketing and product management for construction at Trimble Navigation. "On excavators, the operator still has to physically move the machine." The point is, operators now have help.

Trimble Guides Roto on Bucket to go 360 Degrees
Brian E. Girouard from Trimble tells how this technology allows an operator to see the cutting edge of the bucket for grading no matter how it's rotated. Plotting both the height and rotation line makes the attachment more effective in construction jobs such as precision grading, excavation in confined areas or moving large volumes of earth.
GPS Control for Excavators: How it works and how it can make an operator's life much easier
A new and surprisingly useful evolution of this technology
When GPS/GNSS made its first debut in the construction world, dozers and motor graders were the machines of choice to use this earthmoving technology. With precise satellite data and 3D topo plans, operators could skim the last few centimeters of a site with full confidence that their blades were right on target.
In the past couple of years, though, some manufacturers also began to outfit their excavators with GPS/GNSS technology. And contractors are finding a wide range of uses for excavator machine control in addition to great safety benefits.
Read more at Equipment World
The Construction Business Goes Digital
Builders up their game with data-driven design, drone mapping, 3-D printing and more innovations
The dirt-under-the-fingernails world of construction is breaking digital ground.
In an industry where practices have barely changed for decades, the building site of the future promises comprehensive online modeling, drones as surveyors and virtual-reality images of everything from building sites to commercial real estate.
Led by some big builders and a clutch of startups stretching from Australia to Silicon Valley, the industry is seeking to eliminate the delays and cost overruns that have plagued it in the past.
Read more at The Wall Street Journal
A Leap Second has been added to 2016
A leap second is being added to UTC time to bring time back into relation with a slowing of the earth's rotation at 00:00.00 31st December 2016 UTC.
The leap second is being added to GLONASS system only as GPS is based on a different time system. GLONASS satellite system will be updated at 11:00am Sunday 1st January 2017 Local Time.
This change will a have minimal effects on Trimble equipment. Effects of this update to UTC time will only affect GLONASS satellite tracking and is Firmware dependant. GPS Tracking will not be affected.
Firmware V4.81 and above should have no effect as the leap second has been accounted for in the system.
Firmware v4.40 to v4.80 will lose lock on GLONASS satellites at the leap second introduction and will automatically retrack when the satellites become visible again. A power cycle after the time update may speed this process up.
Firmware v3 and up will lose lock on GLONASS satellites and may also experience general GPS tracking issues as well and will need resetting after the leap second introduction.
Receiver firmware versions can be checked by using different methods depending on receiver models.
SPS85x can be checked on the front LCD panel
SPS985 and SPS88x from a work order report in SCS900 or WEBUI control system
Machine receivers MS99x from the diagnostics screen of the control box
Any questions or concerns relating to the above information can be directed to our technical support team on 02 9860 0000 or email us support@sitechsolutions.com.au
THE 400 MHz Band has changed
Frequencies that used to be allocated to Differential GPS (DGPS) are now being used by government services like law enforcement and emergency services.
If you operate your DGPS equipment on these frequencies, you could disrupt or prevent these critical public safety services from doing their job.
Not sure if you're operating your DGPS legally? You can:
Christmas and New Year Trading Hours
Our Sydney and Canberra offices will be closed for the holidays on Friday, 23rd December 2016 and will re-open at 8am on Monday, 9th January 2017. We will be operating on a limited basis from the 3rd-6th of January.
SITECH Solutions would like to wish you a Happy Christmas and a Wonderful New Year and we look forward to working with you in 2017.

SITECH Solutions at Trimble Dimensions 2016 Highlights
Trimble concluded its 8th International User Conference with more than 4,400 registered attendees representing over 80 countries. Dimensions 2016 provided insight into how information technology can transform the way professionals work to achieve success. The conference featured innovative solutions in Agriculture, Construction, Civil Infrastructure, Engineering, Government, Mapping, Natural Resources, Surveying, Telecommunications, Transportation & Logistics and Utilities.
SITECH Solutions along with our customers were at Trimble Dimensions 2016 User Conference. A three-day action-packed event designed for Trimble users to learn, collaborate and network with their peers. Contact us if you would like to know about the latest product launched at Trimble Dimensions.
SITECH Solutions and Trimble presenting at the CCF NSW Technology Conference on Nov 14 & 15
Trimble Introduces xFill Technology for Machine Control to

Sustain RTK Positioning During Radio or Internet Outages
Trimble Introduces xFill Technology for Machine Control to Sustain RTK Positioning During Radio or Internet Outages
Trimble® GCS900 Grade Control System is now available with xFill™ technology to sustain Real Time Kinematic (RTK) positions during correction outages. xFill uses Trimble RTX™ technology, delivered via satellite, to "fill in" for RTK corrections in the event of temporary radio or Internet connection outages. As a result, users can experience fewer interruptions and less machine downtime.
The Trimble xFill technology maintains RTK-level accuracy during periods of radio or cellular interruption and will continue to extend RTK fixed positions with a gradual decrease in accuracy for a period of up to 5 minutes in construction applications. The technology provides seamless transitions between RTK and xFill. It functions by using the last known RTK position in conjunction with satellite-delivered RTX technology to sustain high-accuracy positions. The service is available throughout most of the world, in areas where Trimble RTX-based services are delivered via satellite.
"Contractors can now take advantage of improved RTK performance and reliability with the addition of xFill technology to the GCS900 Grade Control System," said Scott Crozier, director of marketing for Trimble's Civil Engineering and Construction Division. "Trimble xFill gives users who require uninterrupted connectivity and accuracy a more reliable solution, resulting in more machine uptime and fewer work stoppages."
Availability
The Trimble GCS900 Grade Control System version 13.10 with Trimble xFill technology is available now call us on 02 9860 0000 or email sales@sitechsolutions.com.au for more information.
Trimble Dimensions 2016
A video preview of some of the great things happening at Trimble Dimensions 2016 today!
Trimble Bootcamp 2016
DJI and Datumate Partner to Deliver Site Survey Solution
Firms partner to provide software, app ease & automate surveying, infrastructure-mapping and inspection
The Chinese drone powerhouse DJI and Datumate, a developer of geomatics software, are offering a drone, software and app package that automates and expedites site surveys. http://bit.ly/2dm6Yxj

Aspects of Space and Time
BIM is quickly becoming the digital standard operating procedure in construction. bit.ly/2dNwVV6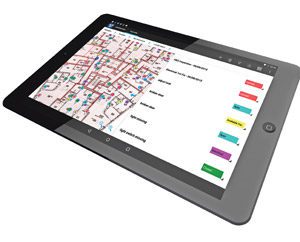 Three views of the past, present and rapidly evolving future of GPS in heavy equipment.
Ed Shappell Director of Technology Services and Solutions for Trimble Civil Division, shares his expertise with Equipment World – http://bit.ly/2dJhNfP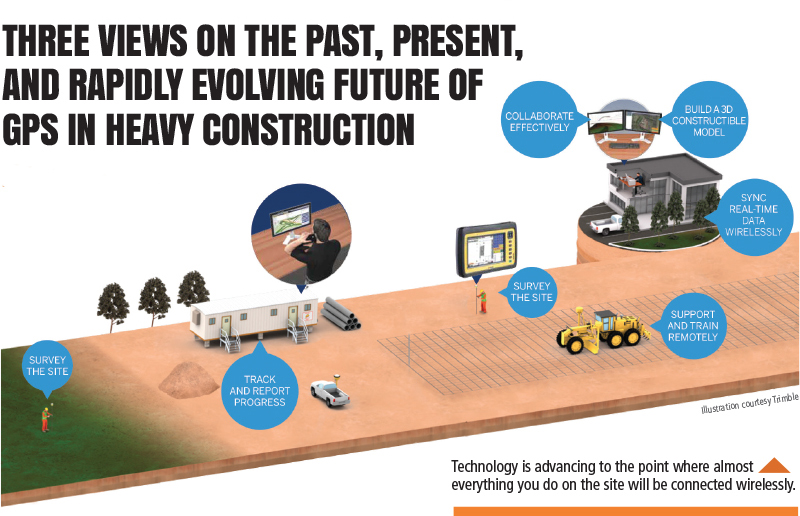 Trimble Site Contractor SketchUp Extension
The Trimble Site Contractor extension allows users to export a 3D design in the format required by Trimble® SCS900 Site Controller Software to position the design in the field and then place it in the cab of a machine with GCS900 Grade Control Systems. Find out how…. http://bit.ly/2dTVYq3 or go to https://lnkd.in/b55DAUy
Trimble GCS900 Grade Control System for Bobcat Grader Attachments
The Trimble GCS900 Grade Control System for Bobcat Grader Attachments allows small contractors to work faster and more effectively on projects that require digital designs and 3D machine control, watch the video: https://lnkd.in/bwWAxmu